MAE-MAT Early Career Researcher Paper Award winner announced
09-Sep-2021
The Medical Anthropology Network (MAE) of the European Association of Social Anthropologists (EASA) and the editorial collective at the Medicine Anthropology Theory (MAT) journal are delighted to announce that the inaugural MAE-MAT Early Career Researcher Paper Award has been granted to Dr Laura Ann Meek for her paper 'The grammar of leprosy: Temporal politics and the impossible subject.'
Dr Meek is currently an assistant professor in the Centre for the Humanities and Medicine at the University of Hong Kong. She is a medical anthropologist who has spent approximately three years conducting ethnographic fieldwork on global health interventions, bodily epistemologies, and the politics of healing in Tanzania. Her work is situated at the nexus of African studies, medical anthropology, postcolonial studies, and feminist science and technology studies. Meek's current book manuscript, Pharmaceuticals in Divergence, explores everyday experiments with pharmaceuticals as evidence of both radical uncertainty and world-making innovation in contemporary Africa.
MAE and MAT announced the prize CfP (see here) on 26 November 2020 and composed a jury of MAT Editorial Collective members and MAE representatives for review during the month of May. The committee awarded the prize to Dr Laura Ann Meek and shortlisted a further paper as a runner-up in recognition of the high quality of their work: Frederica Manfredi's paper 'Thinking through the subject with hooks, needles, and scalpels.' 
Dr Meek's research article will be published in MAT's upcoming issue 8 (3) this very month of September. Besides, Dr Meek will give a public lecture co-badged by MAE and MAT on 30 September 2021 to coincide with the publication, as part of this autumn MAE's seminar lecture series "Building New Relations".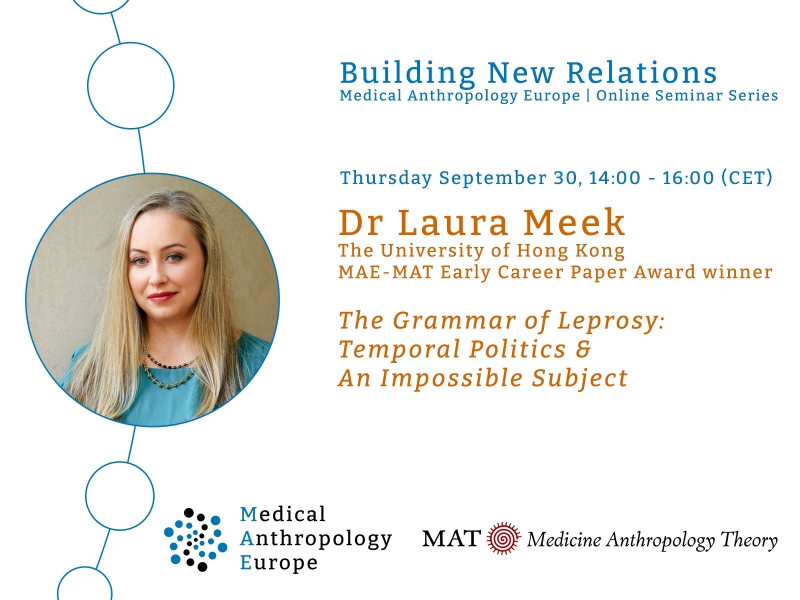 We look forward to collaborating with MAE on this and other initiatives in the years going forward. 
Find out more about MAE: https://www.easaonline.org/networks/medical/
Access MAT's published issues: http://www.medanthrotheory.org/issue/archive
Register via Eventbrite to attend Laura Meek's public lecture. Her talk will take place on 30 September 2021, 14:00 - 16:00 (CET).