MAE-MAT Early Career Researcher Paper Award 2022-23 winner announced
23-Feb-2023
The Medical Anthropology Network (MAE) of the European Association of Social Anthropologists (EASA) and the Editorial Collective of Medicine Anthropology Theory (MAT)  are delighted to announce the winner of the second cycle of the MAE-MAT Early Career Researcher Paper Award.
The award has been granted to Upul Kumara Wickramasinghe, for his paper 'Screening Charity Recipients: Health Philanthropy, Medical Diagnosis, and Kidney Disease Prevention in Sri Lanka'.
Wickramasinghe is currently a final-year PhD candidate in the department of anthropology at Durham University (United Kingdom). He is a medical anthropologist who has conducted doctoral research funded by the Wellcome Trust. The paper contributes to anthropological knowledge on biomedical research in conjunction with health philanthropy in resource-poor settings.
The jury for the prize included Dr Jessica Cooper (University of Edinburgh), Dr Kaveri Qureshi (University of Edinburgh), Prof Ian Harper (University of Edinburgh), Dr Laura Ann Meek (University of British Columbia), Dr Natashe Lemos Dekker (Leiden University), Prof Hansjörg Dilger (Freie Universität Berlin), and Prof Rikke Sand Andersen (Aarhus University). 
Wickramasinghe's research article will be published in MAT later this year. He will additionally give a public lecture co-badged by MAE and MAT as part of MAE's online seminar series. The lecture will be held on Zoom on 30 March from 5-6.30 pm CET. You can register for the event here.
Congratulations, Upul!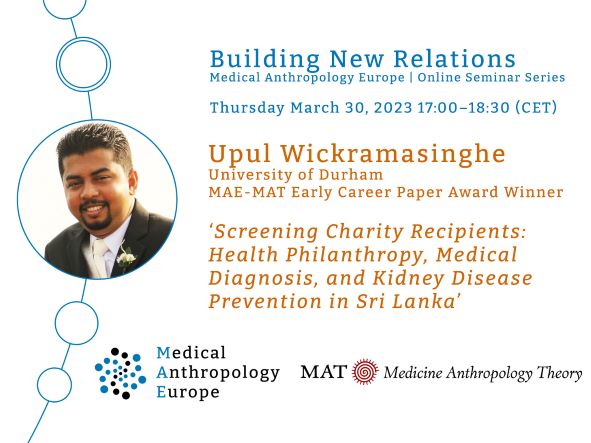 Shortlisted candidates for this year's prize included: Upul Wickramasinghe (Durham), Robert D Smith (Geneva Graduate Institute), Carla Naomi Vaucher (University of Laussane) and Paola Tine (University of Adelaide).